It was really a pleasant surprise to watch this movie. I was not preparing for such powerful action flick for korean show, what more is that my favourite actor Jang Dong Gun was in it too! Originally I was just choosing to watch this since
Cinema.com.my
recommended it. I was not preparing to watch other terrible movie on show now, e.g. The Hills Have Eyes... that sort of crap. Even that
"Fragile"
I watched last friday was just too lame, cannot even be compared to
"Skeleton Key"
.
Anyway, let us come back to this Typhoon movie. The storyline is really simple and predictable. It talks about how Jang Dong Gun as the pirate was trying to revenge on Korea for refusing his family entry through North Korea during the cold war time between these two countries. To counter Jang Dong Gun's effort, the Korean government then sent Lee Joeng Jae, a top marine special force to fight this terrorism.
Then the scene jumps between Thailand, Korea and even deep within Russia. The investment towards this film must have been great. Nonetheless the cinematography was very good, can't really find much dragginess within the show. Very very action packed. I particularly like the scene when Jang Dong Gun and Lee Jeong Jae were confronting each other (aka Face Off scene, with John Travolta and Nicolas Cage).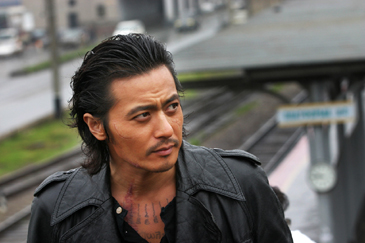 Jang looking gorgeous as ever with this pirate look
Jang Dong Gun has really grown into an actor with a lot of character within himself. As compare to his previous role in All About Eve, he really has evolve into something. He reminds me of Johnny Depp, a lot of flexibility within his acting.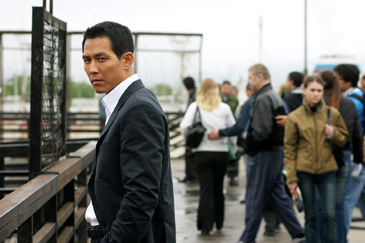 Hunk! - Picture courtesy of Cinema Online
Lee Jeong Jae meanwhile is really my first time seeing him. But who cares as I love every bit of his muscular outlook! I have a weak spot for man with muscles you see.
Go watch it, if you want to ease your mind with something as exciting as this.
More information: